Welcome Pink Phantoms, Colorado's first and only Breast Cancer Survivor (BCS) Dragon Boat Crew!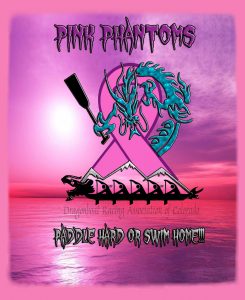 There have been a number of studies over the past 25± years documenting the significant and positive physical and emotional benefits to breast cancer survivors that result from participation in dragon boat racing programs. For a brief overview, a sampling of the documentation that can be found online can be viewed via the links below.
Persuasive as these articles may be, they pale in comparison to seeing firsthand the tremendous spirit of the breast cancer survivor teams, and the wonderful support they receive from the dragon boating community. The photo below was taken at the Arizona Dragon Boat Festival. It shows an annual tradition that recognizes the breast cancer survivor teams after their final race. All the BCS teams join together on the water, while roses are thrown out in their honor. Then, as the crews come in to the dock and exit their boats, paddlers on shore create an arch w/ their paddles for the survivors to parade through. It's a very uplifting and emotional event!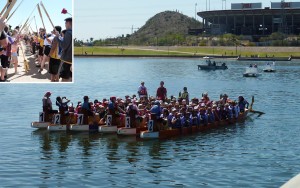 BCS dragon boat programs have become extremely popular and successful in other parts of the United States, and many other countries as well. Here is a link to a very inspiring documentary video featuring a Florida BCS team as they prepared for the International Dragon Boat Festival for Breast Cancer Survivors in Canada in 2010.
Here is a link to a more recent article. Several of our own BCS paddlers participated in the international event held in Florence, Italy.
Breast Cancer and Dragon Boat Racing: The Story Behind a Movement
Another inspiring video illustrates how thousands of survivors from around the globe have formed a sisterhood of dragon boaters; a community of support that helps women overcome the challenges of cancer.
Imagine the potential magnitude of the positive impact a dragon boating program could have on breast cancer survivors in Colorado. More details concerning our crew and its programs and activities are included, or will be added, to the pages linked below. Won't you please join us, and help bring this vision to reality!
For more information, or to sign up for the team, please contact:
Michael J. Boyd (Captain Bligh), Head Coach
DRACO@DragonboatCO.com
(303) 917-3113
_____________________________________________
BCS Links & Reference Materials
SaveSave