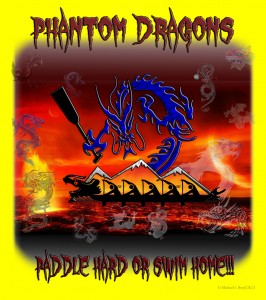 Phantom Dragons is one of the top dragon boat teams in our region. Our goal is to promote dragon boat racing in Colorado, and to train dragon boat teams and paddlers to compete in local, national and international races. We race in a minimum of three events each year, and our crew includes several paddlers who have raced for over 15 years (many of whom have attended week-long dragon boat training camps in Florida).
Phantom Dragons is the only local team with a certified coaching staff. Head Coach Michael Boyd (Captain Bligh!) holds Dragon Boat Canada Level II (Competitive Team) coaching certification, and was also a member of the Team USA Senior C Open crew that won four gold medals in the IDBF Dragon Boat World Championships (Thailand) in 2019. Three of Mike's team members have also completed Level I courses. In addition, the team has access to a relative wealth of training equipment, including two 10-man dragon boats, two 20-man dragon boats, several outrigger canoes (OC-1 and OC-2), and a pool simulator for winter training. We train hard, but we also make sure everyone has FUN!
In the summer (roughly April through October), the Phantom Dragons generally practice three times per week (Saturday mornings and Tuesday and Thursday evenings) on Sloan's Lake in Denver. Over the winter, we practice every Saturday morning and Monday and Wednesday evenings at the Wheat Ridge Recreation Center, using a training platform we built that simulates dragon boat paddling in a swimming pool.
More details concerning our team and its programs and activities are included on the pages linked below. For more information, or to paddle with the Phantom Dragons, please contact Michael J. Boyd (Captain Bligh), team captain and head coach, at DRACO@DragonboatCO.com.
Phantom Dragons Team Member Bios