Michael J. Boyd (Captain Bligh)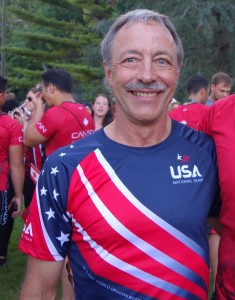 Michael Boyd (a/k/a Captain Bligh!) serves as Captain, Head Coach, and Lead Paddler of the Phantom Dragons dragon boat race team.
Mike got his start in dragon boating in 2003, when he formed a team to race in the Colorado Dragon Boat Festival as a fund-raiser to help send three students (including himself) to Brisbane, Australia to compete as part of Team USA in an International TaeKwon-Do Championship tournament. He was instantly hooked on dragon boat racing, and has continued to paddle, coach, and serve as captain for competitive teams since that time.
Mike has attended week-long dragon boat camps taught by world champion level coaches / paddlers in Florida for the past four years, and recently completed a Dragon Boat Canada Level II Competitive Coaching Course in Pickering, Ontario (certification currently pending).
Mike has led his team to successfully compete in out-of-state festivals in Las Vegas, San Diego, San Francisco and Tempe.  In the 2011 Arizona competition, his team was awarded the prestigious Spirit of Qu Yuan award for demonstrating outstanding sportsmanship and honor.  More recently, he was recognized in a Letter from Senator Mark Udall for his contributions to dragon boat racing in Colorado, and the Phantom Dragons' performance in the San Francisco International Dragon Boat Festival.
Mike's journey recently came "full circle", as he was the first paddler from Colorado to ever be selected to race on a World Championship level dragon boat team.  He had the honor of racing in the coveted right stroke position on Team USA's Senior C Mixed crew in the 12th IDBF Dragon Boat World Championships in Welland, Ontario. For dragon boaters, this is the pinnacle event – the equivalent of what the Olympic Games represents for more conventional sports.