Jesse Thorne (Death Grip)
Jesse is your generic disposable squid that provides awesome and necessary power to the driving force that is the Phantom Dragons dragon boat race team.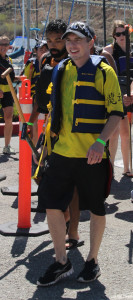 Jesse originally started dragon boating during the summer of 2013, as an outlet for physical and mental exercise, and instantly became captivated, pursuing further training that would lead up to his first local competition at the annual Colorado Dragon Boat Festival (participating as the "off the port-side quarter" paddler after only a month of training and conditioning prior to the event).
Jesse continues to maintain a level of motivation, camaraderie, and enthusiasm that is lasting and genuine. Always looking for improvement and critique to refine his developing skills, he will rise and stand confidently among fellow seasoned shipmates and uphold the energy of the Phantom Dragon family.
Holding true to his nickname, earned during an introspective learning point derived from discomfort in a paddle-arm muscle, Jesse believes in living life adventurously and abundantly. His life-philosophy holds that "if one lives their days without occasionally hanging on for dear life with a death-grip, then one is not living life to the fullest".