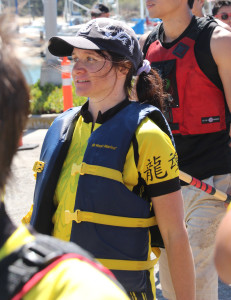 Deborah Boyd (Princess) got her start in dragon boating in 2004, when she was reluctantly recruited to race in the Colorado Dragon Boat Festival on a team led by Michael Boyd (later to become her husband).
Deb has attended week-long dragon boat camps taught by world champion level coaches / paddlers in Florida for the past five years, and completed a Dragon Boat Canada Level I Recreational Coaching Certification course in 2012.
Now Co-Captain and Assistant Coach of the Phantom Dragons, Deb (a/k/a Princess) has helped her team to successfully compete in out-of-state festivals in Las Vegas, San Diego, San Francisco and Tempe, Arizona.