Regis is forming a dragon boat team to race in the 2013 Colorado Dragon Boat Festival, and paddlers who have signed up for the team have already started started to practice.  This past weekend, they trained using a pool simulator built by DRACO President, Michael J. Boyd.  A video clip showing the design and construction of this training device can be seen at the following link:  DRACO Pool Simulator
Below:  Regis Captains Daniel Ng and Abbey Esbenson assist new Regis dragonboat paddlers during a pool/simulator practice, with a little help from Phantom Dragons paddler Ellen Lee (photos 16Feb2K13).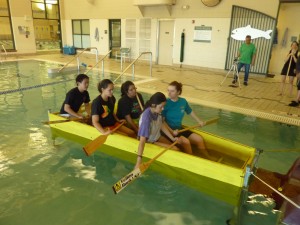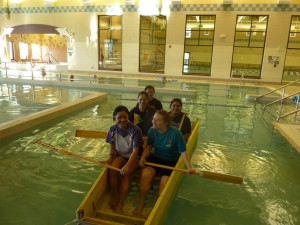 Below:  Regis Coaches Daniel Ng and Abbey Esbenson introduce one of their new paddlers to the pool simulator, while Phantom Dragons assistant coaches Rob Lewis and Tom Ging look on (photo 23Feb2K13).